Transparency as an Aspect of Life Cycle Management
The Life Cycle Management analyses products, processes and services from ecological, economic, social and technical points of view. The analysis is carried out along the entire life cycle - from the extraction of raw materials, through production and use, to the end of life. The basis is the life cycle-related process chain, material and energy flow analysis. Due to the broad coverage of all three pillars of sustainability, complex issues requiring the consideration of ecological, economic, social and technical aspects can be solved.
Depending on the objective, analyses of individual aspects are also possible and useful. In addition to individual decisions, the optimization of a system or targeted innovations can also be the goal and subject of a Life Cycle Management. The special benefit of a Life Cycle Management results from the consistent consideration of a system from several perspectives, which allows to derive new findings and to avoid one-sided decisions. The approach of Life Cycle Management helps to reduce risks and identify opportunities.
Networking of Knowledge
The ecological, economic and social aspects are increasingly intensifying the competitive situation of a globalized economy. The growing complexity of the issues involved is not only prompting individual branches of industry to take an analytical look at existing structures and patterns of action, but is also triggering new research projects and scientific work at European and public level in Germany. Decisive success factors in the conception of new strategies, the development of new methods and calculation procedures are the high level of experience and expert knowledge of the scientists.
The department of Life Cycle Management is divided into three working groups, which conduct basic research in their special fields as well as develop scientific methods related to specific industries or products and also cross-thematic scientific methods. Networking is a living discipline that ensures an open communication structure and includes a project-related regrouping. The cooperative and work-sharing approach is aimed at achieving optimal project results.
Transfer of Knowledge
In lectures the existing know-how is passed on to students of technical disciplines. The engineering background, extensive project experience and the successful combination of research and practical industrial application lead to high-quality, reliable and customer-oriented solutions. The developed tools and databases are used worldwide in all industrial sectors as well as in research and consulting for sustainability assessment.
Contact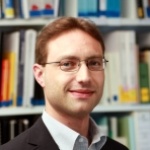 Matthias Fischer
Dipl.-Ing. Umweltschutztechnik
Head of Department